BIO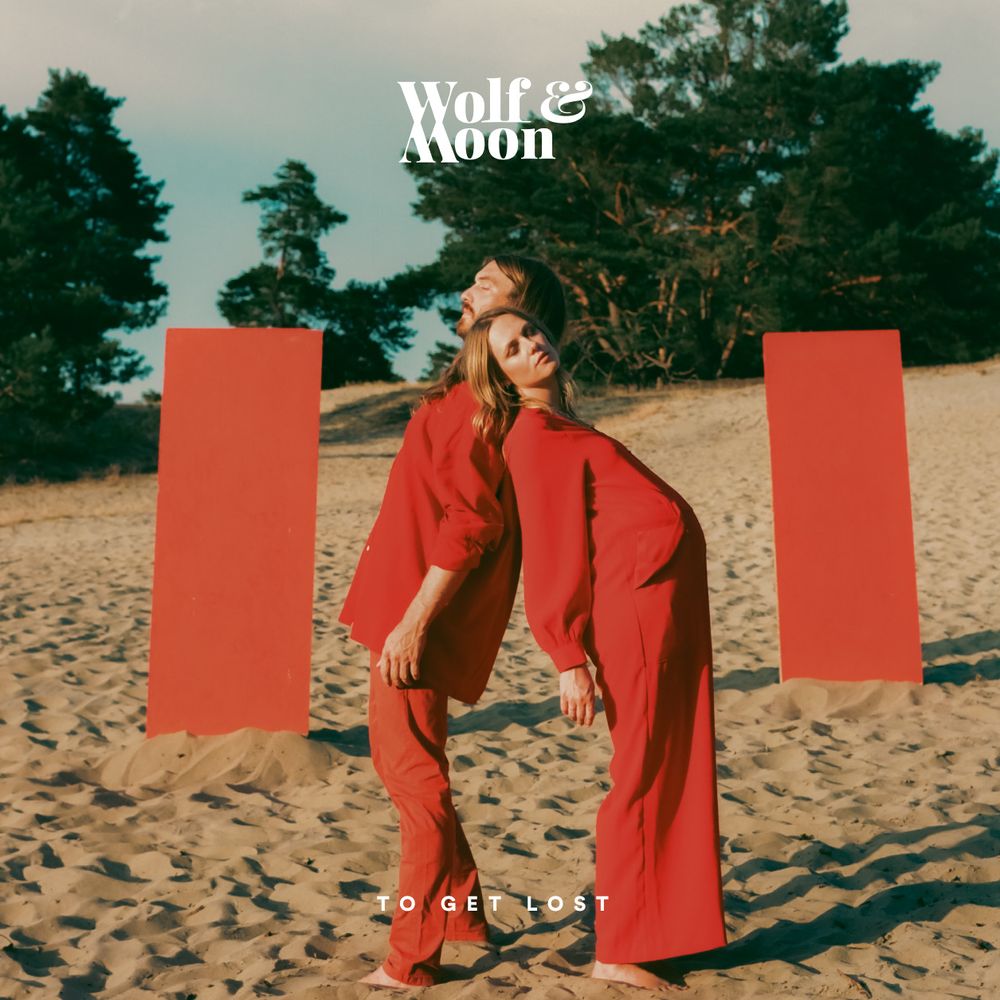 TO GET LOST
Feeling lost - it can be an intimidating state. But it can also unleash powers that you never knew you had inside you. Stefanie and Dennis de Beurs, aka Wolf & Moon, have experienced both sides. "To Get Lost", the third album by the German-Dutch indie pop duo from Berlin, tells of the strokes of fate that the two have had to endure in recent years. At the same time, it is full of resilience and optimism. Euphoric hooks rush through psychedelic shimmering dream pop melancholy and make "To Get Lost" the band's most extroverted work to date. "Are you getting lost? Are you getting low? I see paradise from your window," "Writing this record was therapy for us" A sentence that is often used, but in the case of "To Get Lost" it is absolutely believable. While Wolf & Moon's early songs were shaped by the travels and fresh love of two adventurous souls, there is greater heaviness and vulnerability to the new record. "You came and then you were gone," Stef sings right at the beginning of "To a Nova Star," the first single (which will be released February 24, 2023). She and Dennis went through two miscarriages between 2020 and 2022. Stef was also diagnosed with endometriosis, a common but under-recognized chronic disease in women. A series of low blows that Wolf & Moon also process in the song "Marathon." Openness in dealing with their own experiences is important to them. "We want to help break the taboo and shame surrounding miscarriage," Stef said. "And we want to do our part in the fight for more gender equality in medicine." "Seasonal," "Heavy Loads, Heaven Knows" and "Lost & Low" also deal with serious subjects, as nature groans under the effects of climate change, a close friend slips into drug addiction and conspiracy myths challenge beliefs. But even in the dark moments, hope shimmers through and the will not to be defeated is stronger. "When you lost your heart on the way / We can find it again", Stef and Dennis comfort in "Lost & Low" with so much emphasis on overcoming, that you believe them immediately. In "To a Nova Star" they let their second baby go with the words: "It's alright / This world is not the only place / For you to show your face". No trace of self-pity. Sure, the melancholy remains an integral part of the sound cosmos of Wolf & Moon: Stef and Dennis weave somnambulistic guitars and longing double vocals, whirl up dark twang country dust and let the synths shimmer mysteriously. A cool touch of 80s pop hangs in the air. But then a powerful groove breaks out, a liberating chorus. Wolf & Moon have always had a knack for beguiling melodies. This time the first hook line grabs you after less than 60 seconds and pulls you by the hand into the world out there. "Don't mope!" she seems to call out. And: "We can make it new, we can make it better!" A fascinating interplay of light and shadow, reflection and free rotation unfolds, in which artists such as The xx, Beach House, The Cure, Tame Impala or the early Santigold flare up as reference points. "To Get Lost" got its start in Berlin, where Stef and Dennis worked on their first songs together with Robert Stephenson (Mighty Oaks, Von Wegen Lisbeth). They later travelled to Stockholm to see producer John Andersson, with whom the first two Wolf & Moon releases - "Before It Gets Dark..." (2019) and "Follow the Signs" (2020) - were created. For the first time there was also instrumental support from outside: the Swedish musician, Jonas Edquist, enriched the energy and atmosphere of the album with bass and steel guitar. In 2023, Wolf & Moon will of course also go on tour with "To Get Lost". The two have already played in over 12 countries on four continents, including festivals such as SXSW, ESNS and the Reeperbahn Festival, where they were nominated for a VUT Indie Award for "Best Newcomer" in 2019. In Germany, one may have spotted them during a ZDF appearance on MorgenMagazine. This time, however, life on the road will look a little different: As Stef's baby bump reveals on the album cover, a baby wolf will be travelling on the tour bus in the future. "Before it gets dark, follow the signs to get lost." If you line up the three album titles from Wolf & Moon, you get a sentence. They remind us: Losing oneself can also be an adventure – exciting, inspiring, and enriching. Like the album "To Get Lost."
Press / Reviews
Atwood Magazine (USA)
"The Berlin-based duo's latest single 'Situations' continues this: Starting with a simple guitar riff and a funky bass line, they slowly introduce Casio-keyboard riffs and programmed synth pads seemingly without you noticing it. The end result is a folk song you can groove to—or a dance song that makes you lonely for the good ole days, depending on your perspective. It's like if Of Monsters and Men discovered 808s, or if the power went out at a Heartthrob-era Tegan And Sara show."
The Guardian (UK) 
"Five of the best rock & pop concerts this week"
Short Press text
"Are you getting lost? Are you getting low? I see paradise from your window."
On their third album "To Get Lost" (release: June 16th, 2023), the Berlin-based indie duo Wolf & Moon create a beguiling interplay of psychedelic, shimmering dream-pop melancholy and euphoric hooks. On the most extroverted work to date, Stefanie and Dennis de Beurs deal with personal blows of fate and give their PopNoir a new drive, which draws a line from The xx and Beach House to Tame Impala and the early Santigold. The result is the band's most powerful album to date, which was nominated for a VUT Indie Award with their 2019 debut "Before It Gets Dark" and has already played gigs in twelve countries on four continents, including events such as SXSW, ESNS and the Reeperbahn Festival. On "To Get Lost" Wolf & Moon light up a warming fire at the end of the tunnel for all lost souls. "When you lost your heart on the way, we can find it again," they sing. And you believe them immediately.
Touring history
| Date | City | Country | Name |
| --- | --- | --- | --- |
| 2022-06-17 | Den Haag Scheveningen | Netherlands | HipFest Festival |
| 2022-06-16 | Rotterdam | Netherlands | De Doelen Studio |
| 2022-06-01 | Berlin | Germany | Gretchen |
| 2022-05-31 | Köln | Germany | Blue Shell |
| 2022-05-30 | Hamburg | Germany | Nochtwache |
| 2022-05-28 | München | Germany | Heppel & Ettlich |
| 2021-11-21 | Sittard | Netherlands | Volt |
| 2021-11-20 | Groningen | Netherlands | Vera |
| 2021-11-18 | Utrecht | Netherlands | Ekko |
| 2021-11-05 | Bielefeld | Germany | Bunker Ulmenwall |
| 2021-11-04 | Münster | Germany | Hot Jazz Club |
| 2021-11-03 | Kassel | Germany | Kulturzentrum Schlachthof |
| 2021-10-29 | Mainz | Germany | Schon Schön |
| 2021-10-27 | Marburg | Germany | Q  |
| 2021-10-26 | Hannover | Germany | Cafe Glocksee |
| 2021-10-22 | Karlsruhe | Germany | Kohi |
| 2021-10-21 | Bayreuth | Germany | Das Zentrum |
| 2021-10-20 | Nürnberg | Germany | Muz |
| 2021-10-18 | Leipzig | Germany | Moritzbastei |
| 2021-10-15 | Magdeburg | Germany | Magdeburg |
| 2021-09-29 | Dubai | United Arab Emirates | Expo 2020 |
| 2021-08-21 | Haugesund | Norway | Den festivalen i Vangen |
| 2021-08-20 | Stord | Norway | Ogna Scene |
| 2021-08-19 | Bergen | Norway | Ågtaum Bar |
| 2021-08-18 | Bergen | Norway | Stereo |
| 2021-08-17 | Oslo | Norway | Blå |
| 2021-07-23 | Ruhlsdorf | Germany | Fritz On Tour |
| 2021-07-02 | Frankfurt | Germany | Brotfabrik Sommerwiese |
| 2021-04-24 | Wiltz | Luxembourg | Prabbeli |
| 2020-03-02 | Taranto | Italy | Sonora |
| 2020-03-01 | Recanati | Italy | Old Way Pub |
| 2020-02-29 | Castigilione del Lago | Italy | Darsena |
| 2020-02-24 | Ljubljana | Slovenia | Prulček |
| 2020-02-22 | Budapest | Hungary | Garden Wonder |
| 2020-02-21 | Bratislava | Slovakia | Baudelaire Bar |
| 2020-02-16 | Montabaur | Germany | LivingRoomConcert |
| 2020-02-15 | Göttingen | Germany | Nörgelbuff |
| 2020-02-14 | Oldenburg | Germany | Die! Flänzburch |
| 2020-02-13 | Hagen | Germany | Pelmke |
| 2020-02-01 | Nürnberg | Germany | Stereo |
| 2020-01-31 | Suhl | Germany | Kulturbaustelle |
| 2020-01-30 | Reutlingen | Germany | Franzk |
| 2020-01-29 | Marburg | Germany | Q Cafe.Club.Kultur |
| 2020-01-28 | Konstanz | Germany | K9 |
| 2020-01-27 | Winterthur | Switzerland | Monomontag Portier |
| 2020-01-26 | Luzern | Switzerland | The Phrontistery |
| 2020-01-24 | Magdeburg | Germany | Moritzhof |
| 2020-01-19 | Groningen | Netherlands | Eurosonic |
| 2020-01-15 | Groningen | Netherlands | Eurosonic |
| 2020-01-13 | Berlin | Germany | Berghain Kantine |
| 2020-01-11 | Leipzig | Germany | Moritzbastei |
| 2019-12-16 | London | England | Colours Hoxton |
| 2019-12-15 | London | England | Sofar Sounds |
| 2019-12-14 | London | England | Sofar Sounds |
| 2019-12-01 | Hamburg | Germany | Kukuun |
| 2019-11-23 | St. Goar | Germany | INSIDE Rebstock Garden |
| 2019-11-21 | Münster | Germany | Rote Lola |
| 2019-11-15 | Amsterdam | Netherlands | Mokkum Session |
| 2019-11-14 | Osnabrück | Germany | Osnabrück Lagerhalle |
| 2019-11-13 | Mönchengladbach | Germany | Kulturküche |
| 2019-11-12 | Frankfurt | Germany | Brotfabrik |
| 2019-11-11 | München | Germany | Heppel & Ettlich |
| 2019-11-10 | Regensburg | Germany | Heimat |
| 2019-11-09 | Bayreuth | Germany | Zentrum |
| 2019-11-08 | Reichenbach im vogtland | Germany | Happening- Week |
| 2019-11-06 | Berlin | Germany | Most Wanted |
| 2019-11-02 | Bonn | Germany | Waschsalon |
| 2019-11-01 | Biefeleld | Germany | Bunker |
| 2019-10-31 | Emmen | Netherlands | Popronde Emmen - opening |
| 2019-10-31 | Emmen | Netherlands | Popronde Emmen |
| 2019-10-29 | Amsterdam | Netherlands | Cinetol |
| 2019-10-27 | Hoorn | Netherlands | Bijaard - Popronde |
| 2019-10-25 | "Podium Rozet | Netherlands | Popronde Arnhem |
| 2019-10-24 | Eindhoven | Netherlands | Dutch Design Week |
| 2019-10-24 | Hilversum | Netherlands | 3FM Radio |
| 2019-10-11 | Tilburg | Netherlands | Popronde Tilburg, Hifi Klubben |
| 2019-10-10 | Zandvoort | Netherlands | Alternative FM |
| 2019-10-06 | Dorderecht | Netherlands | Popronde |
| 2019-10-06 | Visser's Poffertjes | Netherlands | Popronde Dorderecht |
| 2019-10-05 | Haarlem | Netherlands | Popronde Haarlem - De DAKKAS |
| 2019-10-04 | Lievelinge Slotfestival, netherlands | Netherlands | ¡El Circo Provocativo! |
| 2019-10-03 | Groningen | Netherlands | Popronde Groningen - Preview |
| 2019-10-03 | Groningen | Netherlands | Popronde Groningen - Grand theatre Downstage |
| 2019-10-01 | Q-Factory, Amsterdam. | Netherlands | Radio Interview |
| 2019-09-29 | Woerden | Netherlands | Popronde Stadsmuseum |
| 2019-09-29 | Woerden | Netherlands | Popronde bibliotheek |
| 2019-09-28 | Almere | Netherlands | Popronde Utopia Eiland |
| 2019-09-27 | Einhoven | Netherlands | Popronde boekhandel Van Piere |
| 2019-09-27 | Einhoven | Netherlands | Popronde 't Rozenknopje |
| 2019-09-26 | Wageningen | Netherlands | Popronde Heerenstraat Theater |
| 2019-09-19 | Reperbahn Festival Hamburg | Germany | VIA AWARDS |
| 2019-09-15 | Roermond | Netherlands | Popronde Podium De Pauw |
| 2019-09-14 | Gouda | Netherlands | Cultuurhuis |
| 2019-09-14 | Ommen | Netherlands | Into The Wild - Bostheater Ommen |
| 2019-09-13 | Hilversum | Netherlands | Radio 2 Interview |
| 2019-09-12 | Nijmegen | Netherlands | Popronde Nijmegen, Hotel Karel |
| 2019-09-07 | Örebro SE | Sweden | Live At Heart | Elite Stora Hotellet |
| 2019-09-07 | Örebro SE | Sweden | Live At Heart | Strand |
| 2019-09-04 | Örebro SE | Sweden | Live At Heart | Konserthuset - Foajén |
| 2019-08-24 | Horn-Bad-Meinberg | Germany | Xperience Festival |
| 2019-08-21 | London | UK | Sofar London |
| 2019-08-20 | London | UK | Salon Noir |
| 2019-08-19 | London | UK | Sofar London |
| 2019-08-18 | Berlin | Germany | East Side Music Days |
| 2019-08-10 | Melle | Germany | Rink Festival |
| 2019-08-06 | Frankfurt Palmen garten | Germany | support IRMA |
| 2019-08-05 | Mascalucia (CT) | Italy | ZONA3 |
| 2019-08-04 | Scicli (RG) | Italy | Rocketta Summer Live Festival |
| 2019-08-03 | Alcamo (TP) | Italy | NUOVE IMPRESSIONI FESTIVAL |
| 2019-08-02 | Brucoli (SR) | Italy | ZOOTV |
| 2019-08-01 | Catania | Italy | Rocketta Summer Live Festival, |
| 2019-07-31 | Comiso (RG) | Italy | MUG |
| 2019-07-30 | Milazzo (ME) | Italy | Bukowski Mestoli e Miscele |
| 2019-07-29 | Rosolini | Italy | MAD |
| 2019-07-26 | Nashville | USA | Spring Water |
| 2019-07-25 | Atlanta | USA | 529 Bar, |
| 2019-07-24 | Chapel Hill | USA | Local 506 |
| 2019-07-23 | Richmond | USA | The Tin Pan |
| 2019-07-21 | DC | USA | Slash Run |
| 2019-07-20 | NJ | USA | Just Jake's in Montclair |
| 2019-07-18 | NY | USA | Arlene's Grocery |
| 2019-07-06 | Bochum | Germany | Bochum TOTAL festival |
| 2019-07-03 | Berlin | Germany | Tech open air |
| 2019-07-01 | Hamburg | Germany | Support J MASCIS, Knust |
| 2019-06-30 | Berlin | Germany | Support J MASCIS, Festsaal Kreuzberg |
| 2019-06-26 | Berlin Klunkerkranich | Germany | Support James Chatburn |
| 2019-05-18 | Darmstadt | Germany | Bedroom Disco |
| 2019-05-10 | Utrecht | Netherland | Ekko |
| 2019-05-08 | Utrecht | Netherland | Tivoli |
| 2019-05-06 | Amsterdam | Netherland | Waterwhole |
| 2019-05-05 | Amsterdam | Netherland | Volkshotel |
| 2019-05-03 | London | England | Slaughtered Lamb |
| 2019-05-02 | London | England | Sofar Sounds |
| 2019-05-01 | London | England | Strongroom |
| 2019-04-30 | Bayreuth | Germany | Sübkultur |
| 2019-04-05 | Lübeck | Germany | Tonfink |
| 2019-04-04 | Kiel | Germany | Prinz Willy |
| 2019-04-03 | Hamburg | Germany | Nochtwache |
| 2019-03-18 | Nashville | US | The High Watt |
| 2019-03-16 | Houston | US | Sofar sounds |
| 2019-03-14 | Austin | US | SXSW, Austin Taco Project |
| 2019-03-12 | Austin | US | SXSW, Austin Convention Centre Pop Up |
| 2019-03-11 | Austin | US | SXSW, Hotel Second Play Stage series @ Embassy Suites |
| 2019-03-10 | Austin | US | Hotel Indigo, SXSW |
| 2019-02-28 | Sankt Peter Ording | Germany | Beach Hotel |
| 2019-02-25 | Berlin | Germany | Privat Club |
| 2019-02-23 | Weisswasser | Germany | Hafenstube SKZ Telux |
| 2019-02-22 | Leipzig | Germany | Noch besser Leben |
| 2019-02-21 | Chemnitz | Germany | aaltra |
| 2019-02-10 | Berlin | Germany | Privat Club |
| 2019-02-09 | Bonn | Germany | Waschsalon |
| 2019-02-08 | Göttingen | Germany | Nörgelbuff |
| 2019-01-10 | Brighton | England | Sofar Sounds |
| 2019-01-09 | Birmingham | England | Hare & Hounds |
| 2019-01-08 | Dublin | Ireland | Whelan's Upstairs |
| 2019-01-07 | Glasgow | Schotland | The Hug And Pint |
| 2019-01-06 | Manchester | England | Sofar Sounds |
| 2019-01-04 | London | England | Slaughtered Lamb |
| 2019-01-03 | London | England | The Birds Nest |
| 2018-12-21 | Melbourne | Australien | Some Velvet Morning |
| 2018-12-20 | Melbourne | Australien | Wesley Anne |
| 2018-12-19 | Melbourne | Australien | Bar Open |
| 2018-12-18 | Pambula | Australien | The Heidi Room |
| 2018-12-15 | Newcastle | Australien | Hunt & Gather |
| 2018-12-12 | Newcastle | Australien | Lass O'Gowrie Hotel |
| 2018-11-03 | Bad Königshofen | Germany | Alte Darre |
| 2018-10-13 | Nürnberg | Germany | NürnbergPop |
| 2018-10-04 | Berlin | Germany | Prachtwerk |
| 2018-09-16 | Weißwasser | Germany | Kultur Brunch |
| 2018-09-01 | Zwickau | Germany | Wild Fang Festival |
| 2018-08-28 | Weimar | Germany | Künstlergarten Kunstfest |
| 2018-08-10 | Reichenbach | Germany | Street Happening |
| 2018-08-04 | Augsburg | Germany | Kulturina |
| 2018-08-03 | München | Germany | Free & Easy Festival |
| 2018-06-24 | Berlin | Germany | Musikschiff |
| 2018-06-23 | Saarbrücken | Germany | Saarklang Festival |
| 2018-06-22 | Wiesbaden | Germany | Youth Culture Festival |
| 2018-06-21 | Zwickau | Germany | Sommersonnenwende |
| 2018-06-10 | Hamburg | Germany | CRAFT Market - Beer Food Design 2018 |
| 10-05-2018 | Hagen | Germany | Nick & June Support |
| 03-05-2018 | Lüneburg | Germany | Nick & June Support |
| 02-05-2018 | Bremen | Germany | Nick & June Support |
| 25-04-2018 | Berlin | Germany | Toast Hawaii |
| 10-03-2018 | Reichenbach Vogtland | Germany | City-HAPPENING |
| 09-03-2018 | GelsenKirchen | Germany | Nick & June Support |
| 08-03-2018 | Hamburg | Germany | Nick & June Support |
| 07-03-2018 | Rostock | Germany | Nick & June Support |
| 06-03-2018 | Göttingen | Germany | Nick & June Support |
| 03-03-2018 | Esslingen | Germany | Nick & June Support |
| 01-03-2018 | München | Germany | Nick & June Support , Glockenbachwerkstatt |
| 16-02-2018 | Berlin | Germany | Al Hamra |