BIO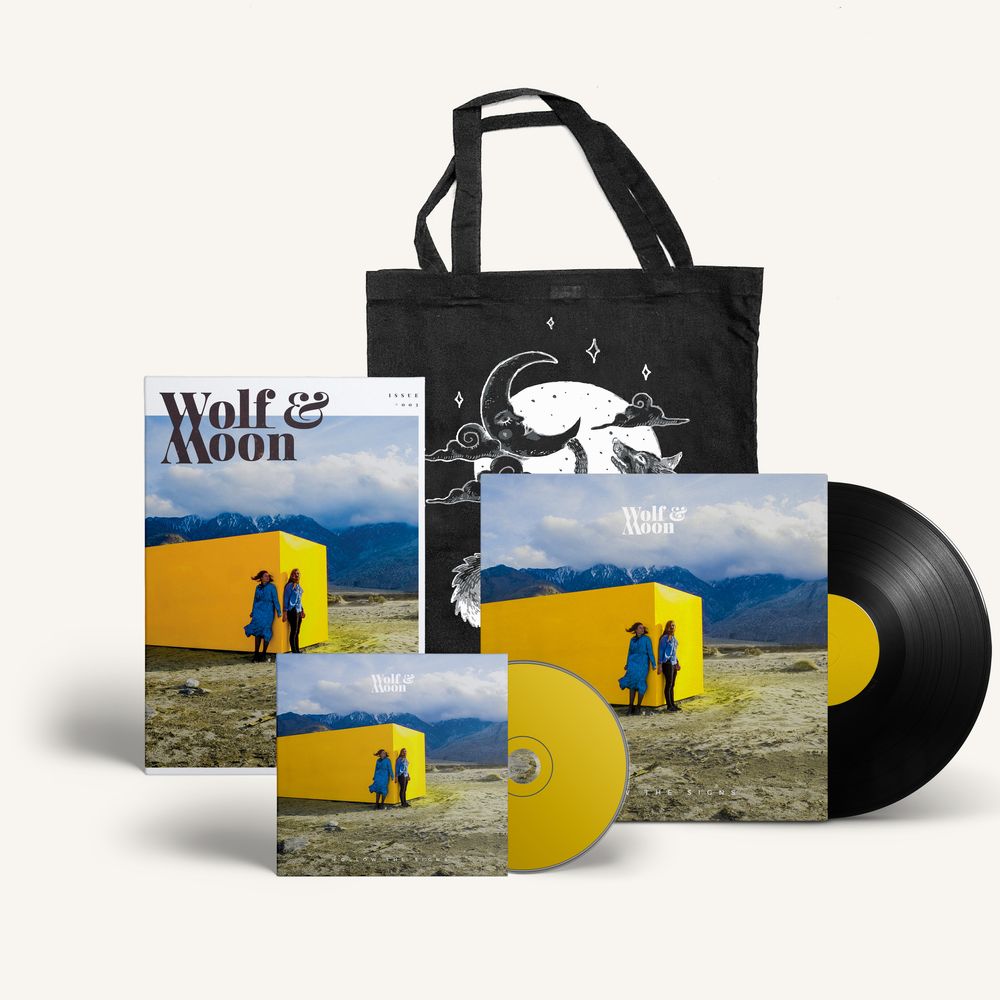 FOLLOW THE SIGNS
Wolf & Moon reunited with producer grammy nominated and award winning producer John Andersson to create their second album "Follow The Signs", and the chemistry between the three of them can be heard and felt in on this long player. 
The record is a dreamy amalgamation of melancholic and folky guitar layers accentuated by an effective selection of synths, Stefany and Dennis show off an incredible range of moods, from sad to hopeful, from erie to uplifting. There are songs you could imagine listening to in a bar in Nashville, while cruising down Highway One through California in a Caddy convertible, while sitting on the porch of your trailer in the Nevada desert or jumping down a waterfall in the Amazon jungle. 
Making the best of any situation, not limiting yourself by tradition and other people's ideas for your life, being adventurous – those are central lyrical themes. Their ear for harmonies remains a forte, and they've never been more adept at using their voices to convey emotions: fragile but not shaky, vulnerable but not weak, powerful but never camp.
All of the above creates a perfect storm that makes "Follow The Signs" such a worthy successor of "Before it gets Dark". Wolf & Moon have matured, and they're not afraid to show it – sonically as well as lyrically.  Their entire being screams adventure, potential, freedom, and so does their music. It's a philosophy, an approach to life, whatever you want to call it, which is best summed up on "The Road": "How would you know really what you got, if you never let go?"
Press / Reviews
Atwood Magazine (USA)
"The Berlin-based duo's latest single 'Situations' continues this: Starting with a simple guitar riff and a funky bass line, they slowly introduce Casio-keyboard riffs and programmed synth pads seemingly without you noticing it. The end result is a folk song you can groove to—or a dance song that makes you lonely for the good ole days, depending on your perspective. It's like if Of Monsters and Men discovered 808s, or if the power went out at a Heartthrob-era Tegan And Sara show."
The Guardian (UK) 
"Five of the best rock & pop concerts this week"
Follow The Signs -  (long) 
A journey is as much a physical experience as it is a spiritual one, and never have Wolf & Moon been more aware of this than on their new album, "Follow The Signs". 
While one camera may be enough to capture the great outdoors, the inner journey requires several refined instruments: guitars, a small but effective selection of synths, creative minds that can draw pictures with words and use their expressive voices to fill them with life. It is this combination that earned Wolf & Moon great praise for their 2019 debut "Before It Gets Dark". The album oozes a keen spirit of adventure and the chemistry of lovers. It also flaunts the production skills of one of the industry's greats, John Andersson, who also produced their second work. 
"Follow The Signs" sounds and feels like a natural evolution from "Before It Gets Dark", which mostly explored venturing out. And while the vagabond lifestyle will forever remain in Wolf & Moon's DNA, Stefany and Dennis decided to build a house together last year. They've matured, but they've also gotten more selective and spontaneous, which is mirrored in the production process of "Follow The Signs". The band committed to recording one song per day, which makes the album sounds quite adventurous – a living organism that will develop live on tour. On the first two singles, "The Road" and "A Tape Called Life", Wolf & Moon keep up the pensive melancholy they've become known and loved for, while mixing a good dose of indie rock into the dreamy folk formula. 
The lyrics on "Follow The Signs" are unequivocally more personal, you'll get to know the band very well this time around. What hasn't changed is Stefany's and Dennis' ear for captivating melodies, if anything, they've gotten braver in exploring new melodic routes. Those moments when their voices separate into different harmonies still make the heart beat faster. 
Wolf & Moon's first record was set, as far as the lyrical and visual aesthetics are concerned, just outside the big city, on open fields, surrounded by vast countryside and untouched nature. "Follow The Signs" is starting to approach the city lights, you get a taste of the more technological and sophisticated lifestyle of modernity, without losing the sense for what matters most: remaining free and open to the wide world. 
If there's one theme that has carried through both Stefany's and Dennis' life together, it is having faith in your own decisions. They've never been afraid to leave everything behind in light of a purposeful adventure – like booking their first U.S. tour on their own without having written any joint songs yet or moving to Sweden for three months to produce their first album. 
They've successfully escaped the grind, the 9-to-5 cult, the safety-first mentality, in short: all the standard drafts for life many seem to have accepted as preordained. Wolf & Moon not so. Their entire being screams adventure, potential, freedom, and so does their music. It's a philosophy, an approach to life, whatever you want to call it, which is best summed up on "The Road": "How would you know really what you got, if you never let go?" 
If you're a serious traveler, you're not interested in the all-round carefree package. You're going to choose an 8-hour journey in a dilapidated bus over a 1-hour air-conditioned train ride. It's the quickest way to turn the unfamiliar into the familiar. It's analogous to our inner journey: We're afraid of exploring the depths of our soul, of looking into the abyss, of facing the unknown. But once you lose your fear of the shadows, they'll develop a pull. The greatest revelations await in the unfamiliar, how could it be any other way? All you need to do is "Follow The Signs".
Touring history
| Date | City | Country | Name |
| --- | --- | --- | --- |
| 2021-08-21 | Haugesund | Norway | Den festivalen i Vangen |
| 2021-08-20 | Stord | Norway | Ogna Scene |
| 2021-08-19 | Bergen | Norway | Ågtaum Bar |
| 2021-08-18 | Bergen | Norway | Stereo |
| 2021-08-17 | Oslo | Norway | Blå |
| 2021-07-23 | Ruhlsdorf | Germany | Fritz On Tour |
| 2021-07-02 | Frankfurt | Germany | Brotfabrik Sommerwiese |
| 2021-04-24 | Wiltz | Luxembourg | Prabbeli |
| 2020-03-02 | Taranto | Italy | Sonora |
| 2020-03-01 | Recanati | Italy | Old Way Pub |
| 2020-02-29 | Castigilione del Lago | Italy | Darsena |
| 2020-02-24 | Ljubljana | Slovenia | Prulček |
| 2020-02-22 | Budapest | Hungary | Garden Wonder |
| 2020-02-21 | Bratislava | Slovakia | Baudelaire Bar |
| 2020-02-16 | Montabaur | Germany | LivingRoomConcert |
| 2020-02-15 | Göttingen | Germany | Nörgelbuff |
| 2020-02-14 | Oldenburg | Germany | Die! Flänzburch |
| 2020-02-13 | Hagen | Germany | Pelmke |
| 2020-02-01 | Nürnberg | Germany | Stereo |
| 2020-01-31 | Suhl | Germany | Kulturbaustelle |
| 2020-01-30 | Reutlingen | Germany | Franzk |
| 2020-01-29 | Marburg | Germany | Q Cafe.Club.Kultur |
| 2020-01-28 | Konstanz | Germany | K9 |
| 2020-01-27 | Winterthur | Switzerland | Monomontag Portier |
| 2020-01-26 | Luzern | Switzerland | The Phrontistery |
| 2020-01-24 | Magdeburg | Germany | Moritzhof |
| 2020-01-19 | Groningen | Netherlands | Eurosonic |
| 2020-01-15 | Groningen | Netherlands | Eurosonic |
| 2020-01-13 | Berlin | Germany | Berghain Kantine |
| 2020-01-11 | Leipzig | Germany | Moritzbastei |
| 2019-12-16 | London | England | Colours Hoxton |
| 2019-12-15 | London | England | Sofar Sounds |
| 2019-12-14 | London | England | Sofar Sounds |
| 2019-12-01 | Hamburg | Germany | Kukuun |
| 2019-11-23 | St. Goar | Germany | INSIDE Rebstock Garden |
| 2019-11-21 | Münster | Germany | Rote Lola |
| 2019-11-15 | Amsterdam | Netherlands | Mokkum Session |
| 2019-11-14 | Osnabrück | Germany | Osnabrück Lagerhalle |
| 2019-11-13 | Mönchengladbach | Germany | Kulturküche |
| 2019-11-12 | Frankfurt | Germany | Brotfabrik |
| 2019-11-11 | München | Germany | Heppel & Ettlich |
| 2019-11-10 | Regensburg | Germany | Heimat |
| 2019-11-09 | Bayreuth | Germany | Zentrum |
| 2019-11-08 | Reichenbach im vogtland | Germany | Happening- Week |
| 2019-11-06 | Berlin | Germany | Most Wanted |
| 2019-11-02 | Bonn | Germany | Waschsalon |
| 2019-11-01 | Biefeleld | Germany | Bunker |
| 2019-10-31 | Emmen | Netherlands | Popronde Emmen - opening |
| 2019-10-31 | Emmen | Netherlands | Popronde Emmen |
| 2019-10-29 | Amsterdam | Netherlands | Cinetol |
| 2019-10-27 | Hoorn | Netherlands | Bijaard - Popronde |
| 2019-10-25 | "Podium Rozet | Netherlands | Popronde Arnhem |
| 2019-10-24 | Eindhoven | Netherlands | Dutch Design Week |
| 2019-10-24 | Hilversum | Netherlands | 3FM Radio |
| 2019-10-11 | Tilburg | Netherlands | Popronde Tilburg, Hifi Klubben |
| 2019-10-10 | Zandvoort | Netherlands | Alternative FM |
| 2019-10-06 | Dorderecht | Netherlands | Popronde |
| 2019-10-06 | Visser's Poffertjes | Netherlands | Popronde Dorderecht |
| 2019-10-05 | Haarlem | Netherlands | Popronde Haarlem - De DAKKAS |
| 2019-10-04 | Lievelinge Slotfestival, netherlands | Netherlands | ¡El Circo Provocativo! |
| 2019-10-03 | Groningen | Netherlands | Popronde Groningen - Preview |
| 2019-10-03 | Groningen | Netherlands | Popronde Groningen - Grand theatre Downstage |
| 2019-10-01 | Q-Factory, Amsterdam. | Netherlands | Radio Interview |
| 2019-09-29 | Woerden | Netherlands | Popronde Stadsmuseum |
| 2019-09-29 | Woerden | Netherlands | Popronde bibliotheek |
| 2019-09-28 | Almere | Netherlands | Popronde Utopia Eiland |
| 2019-09-27 | Einhoven | Netherlands | Popronde boekhandel Van Piere |
| 2019-09-27 | Einhoven | Netherlands | Popronde 't Rozenknopje |
| 2019-09-26 | Wageningen | Netherlands | Popronde Heerenstraat Theater |
| 2019-09-19 | Reperbahn Festival Hamburg | Germany | VIA AWARDS |
| 2019-09-15 | Roermond | Netherlands | Popronde Podium De Pauw |
| 2019-09-14 | Gouda | Netherlands | Cultuurhuis |
| 2019-09-14 | Ommen | Netherlands | Into The Wild - Bostheater Ommen |
| 2019-09-13 | Hilversum | Netherlands | Radio 2 Interview |
| 2019-09-12 | Nijmegen | Netherlands | Popronde Nijmegen, Hotel Karel |
| 2019-09-07 | Örebro SE | Sweden | Live At Heart | Elite Stora Hotellet |
| 2019-09-07 | Örebro SE | Sweden | Live At Heart | Strand |
| 2019-09-04 | Örebro SE | Sweden | Live At Heart | Konserthuset - Foajén |
| 2019-08-24 | Horn-Bad-Meinberg | Germany | Xperience Festival |
| 2019-08-21 | London | UK | Sofar London |
| 2019-08-20 | London | UK | Salon Noir |
| 2019-08-19 | London | UK | Sofar London |
| 2019-08-18 | Berlin | Germany | East Side Music Days |
| 2019-08-10 | Melle | Germany | Rink Festival |
| 2019-08-06 | Frankfurt Palmen garten | Germany | support IRMA |
| 2019-08-05 | Mascalucia (CT) | Italy | ZONA3 |
| 2019-08-04 | Scicli (RG) | Italy | Rocketta Summer Live Festival |
| 2019-08-03 | Alcamo (TP) | Italy | NUOVE IMPRESSIONI FESTIVAL |
| 2019-08-02 | Brucoli (SR) | Italy | ZOOTV |
| 2019-08-01 | Catania | Italy | Rocketta Summer Live Festival, |
| 2019-07-31 | Comiso (RG) | Italy | MUG |
| 2019-07-30 | Milazzo (ME) | Italy | Bukowski Mestoli e Miscele |
| 2019-07-29 | Rosolini | Italy | MAD |
| 2019-07-26 | Nashville | USA | Spring Water |
| 2019-07-25 | Atlanta | USA | 529 Bar, |
| 2019-07-24 | Chapel Hill | USA | Local 506 |
| 2019-07-23 | Richmond | USA | The Tin Pan |
| 2019-07-21 | DC | USA | Slash Run |
| 2019-07-20 | NJ | USA | Just Jake's in Montclair |
| 2019-07-18 | NY | USA | Arlene's Grocery |
| 2019-07-06 | Bochum | Germany | Bochum TOTAL festival |
| 2019-07-03 | Berlin | Germany | Tech open air |
| 2019-07-01 | Hamburg | Germany | Support J MASCIS, Knust |
| 2019-06-30 | Berlin | Germany | Support J MASCIS, Festsaal Kreuzberg |
| 2019-06-26 | Berlin Klunkerkranich | Germany | Support James Chatburn |
| 2019-05-18 | Darmstadt | Germany | Bedroom Disco |
| 2019-05-10 | Utrecht | Netherland | Ekko |
| 2019-05-08 | Utrecht | Netherland | Tivoli |
| 2019-05-06 | Amsterdam | Netherland | Waterwhole |
| 2019-05-05 | Amsterdam | Netherland | Volkshotel |
| 2019-05-03 | London | England | Slaughtered Lamb |
| 2019-05-02 | London | England | Sofar Sounds |
| 2019-05-01 | London | England | Strongroom |
| 2019-04-30 | Bayreuth | Germany | Sübkultur |
| 2019-04-05 | Lübeck | Germany | Tonfink |
| 2019-04-04 | Kiel | Germany | Prinz Willy |
| 2019-04-03 | Hamburg | Germany | Nochtwache |
| 2019-03-18 | Nashville | US | The High Watt |
| 2019-03-16 | Houston | US | Sofar sounds |
| 2019-03-14 | Austin | US | SXSW, Austin Taco Project |
| 2019-03-12 | Austin | US | SXSW, Austin Convention Centre Pop Up |
| 2019-03-11 | Austin | US | SXSW, Hotel Second Play Stage series @ Embassy Suites |
| 2019-03-10 | Austin | US | Hotel Indigo, SXSW |
| 2019-02-28 | Sankt Peter Ording | Germany | Beach Hotel |
| 2019-02-25 | Berlin | Germany | Privat Club |
| 2019-02-23 | Weisswasser | Germany | Hafenstube SKZ Telux |
| 2019-02-22 | Leipzig | Germany | Noch besser Leben |
| 2019-02-21 | Chemnitz | Germany | aaltra |
| 2019-02-10 | Berlin | Germany | Privat Club |
| 2019-02-09 | Bonn | Germany | Waschsalon |
| 2019-02-08 | Göttingen | Germany | Nörgelbuff |
| 2019-01-10 | Brighton | England | Sofar Sounds |
| 2019-01-09 | Birmingham | England | Hare & Hounds |
| 2019-01-08 | Dublin | Ireland | Whelan's Upstairs |
| 2019-01-07 | Glasgow | Schotland | The Hug And Pint |
| 2019-01-06 | Manchester | England | Sofar Sounds |
| 2019-01-04 | London | England | Slaughtered Lamb |
| 2019-01-03 | London | England | The Birds Nest |
| 2018-12-21 | Melbourne | Australien | Some Velvet Morning |
| 2018-12-20 | Melbourne | Australien | Wesley Anne |
| 2018-12-19 | Melbourne | Australien | Bar Open |
| 2018-12-18 | Pambula | Australien | The Heidi Room |
| 2018-12-15 | Newcastle | Australien | Hunt & Gather |
| 2018-12-12 | Newcastle | Australien | Lass O'Gowrie Hotel |
| 2018-11-03 | Bad Königshofen | Germany | Alte Darre |
| 2018-10-13 | Nürnberg | Germany | NürnbergPop |
| 2018-10-04 | Berlin | Germany | Prachtwerk |
| 2018-09-16 | Weißwasser | Germany | Kultur Brunch |
| 2018-09-01 | Zwickau | Germany | Wild Fang Festival |
| 2018-08-28 | Weimar | Germany | Künstlergarten Kunstfest |
| 2018-08-10 | Reichenbach | Germany | Street Happening |
| 2018-08-04 | Augsburg | Germany | Kulturina |
| 2018-08-03 | München | Germany | Free & Easy Festival |
| 2018-06-24 | Berlin | Germany | Musikschiff |
| 2018-06-23 | Saarbrücken | Germany | Saarklang Festival |
| 2018-06-22 | Wiesbaden | Germany | Youth Culture Festival |
| 2018-06-21 | Zwickau | Germany | Sommersonnenwende |
| 2018-06-10 | Hamburg | Germany | CRAFT Market - Beer Food Design 2018 |
| 10-05-2018 | Hagen | Germany | Nick & June Support |
| 03-05-2018 | Lüneburg | Germany | Nick & June Support |
| 02-05-2018 | Bremen | Germany | Nick & June Support |
| 25-04-2018 | Berlin | Germany | Toast Hawaii |
| 10-03-2018 | Reichenbach Vogtland | Germany | City-HAPPENING |
| 09-03-2018 | GelsenKirchen | Germany | Nick & June Support |
| 08-03-2018 | Hamburg | Germany | Nick & June Support |
| 07-03-2018 | Rostock | Germany | Nick & June Support |
| 06-03-2018 | Göttingen | Germany | Nick & June Support |
| 03-03-2018 | Esslingen | Germany | Nick & June Support |
| 01-03-2018 | München | Germany | Nick & June Support , Glockenbachwerkstatt |
| 16-02-2018 | Berlin | Germany | Al Hamra |